Hi!
Three questions regarding the differentials in the Talion/Kraton and probably Typhoon as well? (I have the Talion)
I took all the differentials a part, since I'm going to change the diff oil as well as assemble them again with some shims (team Durango). Took them apart for a few weeks ago and they've been sitting on paper since then, now when I'm about to assemble them again but I'm not sure which one that is the rear and which one that is the front one? The only differences I can see on them is that one of the spurs is milled on the inside. Do you guys know where that differential should be? In the front or on the back?
If I look at the amount of grease applied around the differentials inside the housings, and the amount of grease covering the "outside/back" of the spurs I would guess that the differential with the milled spurgear should be in the front. The exploded view for the differential doesn't show this difference?
Second question:
When I disassembled the differentials, the number of small shims doesn't really follow the drawings/instructions/exploaded view, or any logical at all. On the center differential there was two shims on all places except one, on one of the front/rear differentials there where one shim everywhere and on the other front/rear there where one shim on three places except one that had two...
Should I reassemble them like that, or follow the description?
The instructions has one exploded view for any differential, and that one says to use only one shim on each side.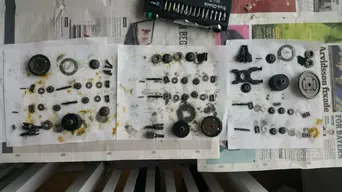 Third question:
Two of my dissembled diffs has the gasket/shim with part no AR310444 included, one has not.
Is that correct or has my kids been playing around with the parts?
The exploded view includes the gasket in the differential.
Best Regards Patrik
EDIT:::: Found this video, so apparently two washers/shims on one side and one on the other side is recommended? That solved my second question
Last edited: