Messages

136
Reaction score

305
Location
Arrma RC's

4x4-Mega
Felony
Granite
Infraction
Limitless
Kraton EXB
Mojave
Senton 3s
Typhon 6s
Typhon 3s
Acquired this V1 RTR on OfferUp. This will serve as the base for the build.
Had a new Spektrum 160A 8S esc and 2050kv motor laying around, not in use. Perfect for this build. Side note: mounting tabs have to be trimmed is you're putting this in the V1 or Limitless. The V2 Infraction or Felony have mounting holes for the 160A, so no need to trim the tabs.
V1 and V2 side by side for reference
Re-did the suspension following the tips given in Raz's speedrun series (episode 5). Had some nitro tube on hand and some some pieces to length. Gonna try out some 3k cst diff fluid for the shocks. Stock weight is 2k cst, so just a bit stiffer.
Got everything wrapped up and took it to a parking lot. Ran pretty well, but the stiffness of the suspension had it bouncing like a bunny over bumps.. but perfect for smooth roads.
Randomly I decided to take it out for its first official speedrun and it didn't disappoint. Got a new all time PB of 107mph (172.2kph for those on the metric system) using 27/34 center gearing, 8S LiPo and Perfect Pass set to 7secs. Motor and ESC were still pretty cool to the touch after two back to back passes.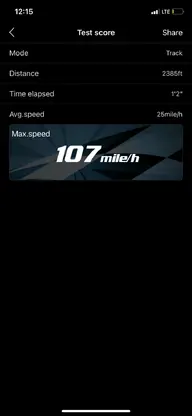 Cost breakdown:
- $350 used RTR
- $180 motor/esc
- $60 spool
- $20 new sealed bearings
- $50 Perfect Pass
- $7 diff fluid
- $20 wires, bullets for esc
Total: $687
Can probably sale the old electronics that came with it for $100. Which will be bring the total cost under $600.
Not bad for a 100mph+ build that can perform pretty reliably.