Messages

118
Reaction score

91
Location
Arrma RC's

Senton 6s
Talion
So it was time to really dig into my RC's and prep them for spring.... yeah Spring has arrived already and i'm a bit late but well you know MN weather and just plain lazy compounded to delay everything (mainly the lazy). This has been my list of projects over the last week.
1st:
My Talion needed some cleaning and i was having a problem with the receiver. so an hour or so stripping things down to lube up everything and then another hour to open up the electronics find out my receiver was dieing and swap it out.
Total Time: 2 Hours
Sorry no pics on the first one.
2nd:
Take the Axial Wraith out and do a bit of crawling for a bit of a break. then install 4 wheel steering on it the front electronics tray and half of my new tires and foams (2nd set of foams hasn't arrived yet) and put stiffer shocks in the rear.
front wheels are already off and waiting for the foams that should arrive tomorrow, Still need to cut out the body and paint it up that will be this weekend i hope. only 30 minutes for it to be up and running the body can happen whenever it moves slow enough i'm not too worried about the lack of body.
Time on this was ~5 hours so far with ~3 more to go
3rd:
Dig out the Associated Rival, discover the knuckles are really loose and maybe a few bearings are going out on it.
Strip it down to the knuckles and grab my spare pair i purchased a few years back. Discover yup one bearing was bad. the rest were fine the knuckles had just come loose because i geared it too fast and everything got loose on it. Also discovered I might have flipped the truck one too many times because i snapped off a couple of my shock eyelets on one side. take the time to mount an Arrma battery tray and custom drill and re-mount the servo and receiver box (this was because I was sick of working on the knuckles and needed something else for a bit).
Broken Ball ends, The Arm in questions after repairs were complete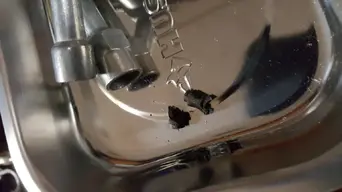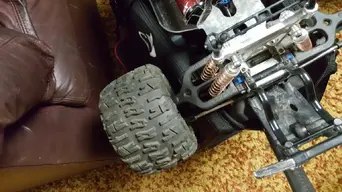 Total time ~5 hours so far and probably 2 to go.
4th:
Grab the HPI E-Firestorm and mount up it's sand tires add titanium turnbuckles and fix a ball cup I broke last year. (anyone ever looking at the HPI sand tires they seem to have a good pattern but man whatever compound they use is the worst I swear i was getting high just from sitting in the room next to the room i worked on them.
No pics on this one I don't want to go near the damn tires right now i have it locked up in a closet until I can get it down to the beach.
Total Time: 1 hour
5th: Senton - Good to go no work needed, No Pics seem the pics in the Media section of the website or on the Senton sub-forums
6th Associated B4.2 - Good to go it's an aluminum brick on wheels my buds can't seem to break it when they start driving it (after they have destroyed their own cars the same day). If it wasn't the designated loaner car at this point I would retire it to pasture on the shelf since i don't ever drive it.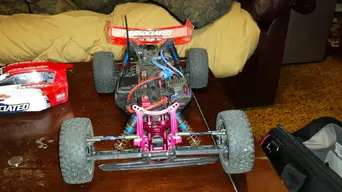 Grand Total Time: 11 hours with ~5 more to go estimated.