Messages

6
Reaction score

0
Arrma RC's

Senton 6s
there are two particular parts on this car that I've noticed break down quite quickly and quite easily, especially in the cold weather. Ive gone through two of the composite differential caps (the metal to composite area became detached) along with 3 lower arms. the pivot ball broke the arm in the center and split/cracked the arm. In one of the photos you'll see the crack in the arm attached to the senton. Considering the arms were already broken I thought I'd try something to stiffen it up. I took a dremel tool and shaved the arm area around where the pivot ball screws into back about a 1/4 inch to slide a #4 steel clamp onto it.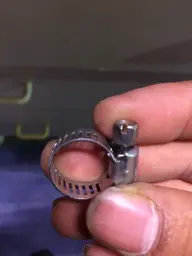 It's small enough to keep away from all the moving parts. I've driven the car on multiple surfaces and multiple runs and haven't had a problem yet.
Hopefully this helps someone out there who may be buying numerous amounts of lower arms. worth a shot.