Messages

3,044
Reaction score

4,830
Arrma RC's

Infraction
Limitless
Kraton 8S
Kraton 6s
Mojave
Notorious
Outcast 8s
Outcast 6s
Talion
Typhon 6s
Well, since it's now officially a build instead of an assemble and bash... I guessss I'll start a build thread.. haha
Kronos XTR..
before I even got the car I had an extra body not knowing that the xtr comes with it's own extra clear body
So then the car came and I decided that was going to be the bash shell.. nice n bright and easy to see for videos..
Then I did the diff service and changed the wheels to the backflip LP's..
After that I went for the first 4s and 6s runs...
4S:
6S:
after my first runs, I really like this XTR KRONOS.... it's awesome , especially at the price point they have.
initial thoughts video:
I was having issues with a bit of cogging and sputtering on 6s... I had upped the pinion to 15 with a stock spektrum 160a... no go with the higher gear ratios of the xtr.. it was wicked fast but if you tried to squeeze the trigger to quickly it would cough and sputter.
Soooo, time for some gnarly power...
Hobbywing
max6
with hobbystar 4585 1580kv and 17T pinion.
Drive shaft clearance.
Had to remove and shave the plastic spots where the beauty washers were in the rear (2) spots to have the motor fit..
Some of the carbon fiber parts that I've ordered came in so I threw those in..
painted up the new body that came with the xtr, it has its own seperate XTR decal sheet which I thought was pretty cool.
So now I've ordered up the 7075 center braces. These stock ones are made out of a less durable aluminum just like the kraton EXB's were.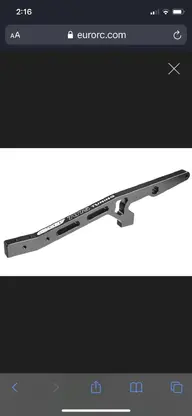 I also have the 7075 diff cups ordered and the Swiss 7075 drive cups.