WE WANT RPM. So like some of the other members, I decided to email RPM and let them know that another Arrma rc owner was inquiring about upgrades from there company. They were very pleasent and told me that the Arrma 1:8 line up was new to them.. They basically said there wing mount is to test the waters to see if there is enough Arrma enthusiast for there products. They said if they wing mount sells, then there will be more parts for the Arrma lineup.... So if we want to see more parts from RPM, then we need to show them we are interested. Email them!
GO BUY THE RPM WING MOUNT!!!
I do not have a vehicle that this fits on, nor any use for a wing mount, but i am going to buy one anyways. I will take one for the team. WILL YOU?
http://www3.towerhobbies.com/cgi-bin/wti0001p?&I=LXFYHT&P=7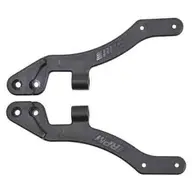 Last edited: