I was driving at full throttle not for an excessive amount of time though and now there's some sound coming from the backside of the car....but its working perfectly fine....
everything seems fine ....but am attaching a pic of the rod that goes into the back differential is it out ?
is the rod out of place...as in it is meant to be inside the differential please have a look at the pic....
or is the sound coming from the back differential ..as in something's gotten inside....but its closed pretty well so am not sure as to how something could get inside
Thanks,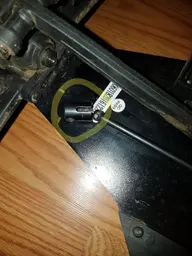 i got the drive shafts out and noticed this...is this why it's making sound ....the drive shafts should come out but the back side HOLDER which holds the drive shaft also came out along with it....did i lose a screw ???
attached is the pic when i opened the center screws for drive shaft maintenance
Last edited: