Premium Member!
Premium Member
Messages

112
Reaction score

185
Location
Arrma RC's

Kraton 6s, Kraton 4s
I am curious what car people grab first when they want to go have some fun. There are no right, or wrong answers and it does not have to be an Arrma. Please just name the brand and model and let us know what other cars you have now or have owned. If the car you list is the only rc you have ever owned that is fine, just let us know.
I don't want this to turn into an argument on why someone is wrong, I just want to know what rig is your favorite.
Here is my response
Go to Traxxas Maxx 4s
My other cars
Arrma Kraton 4s
Redcat Blackout xte pro
Redcat Volcano epx pro
Waiting for Armma Kraton 6s - Arrive 5/19/20 now to go through it and get it ready for the weekend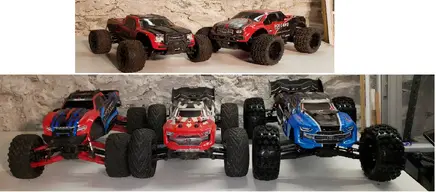 Last edited: